Buyers Be Prepared For Some Pitfalls When The Seller Is Getting Divorced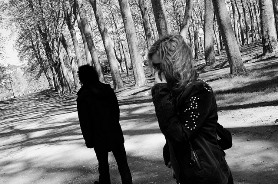 Buying a home is exciting. It can also be challenging. Because buyers and sellers are human beings with all different personalities, likes and dislikes, and different goals and life situations, it can get interesting.
When a couple is going through a divorce and selling, the challenges can be even more difficult to overcome.
Here are some issues you may encounter, so should be prepared to handle, when buying a home from a couple going through a divorce.
1. It may be difficult to schedule a showing. Many times the sale is a requirement to complete the divorce and split up the assets. Often the couple may be at different places in their lives. One may be anxious to get the divorce settled so they can move on. The other may want to drag it out for spite, or they may want to stay in the home as long as possible to avoid the additional expense of moving and further disruption of their life. The unmotivated spouse may make it difficult to set showings by turning down times that are inconvenient, or may set a very restrictive showing window. We've also seen cases where the unmotivated spouse will keep the house messy so it doesn't show well.
2. Contract negotiations may drag out past deadlines. When you make an offer to purchase, it has a date and time within which your offer is valid. Then after that time the offer is technically expired. This time period is generally a day or two, depending on how quickly the market is moving. It can be difficult for the sellers to get together to discuss the offer and agree on whether they should counter it or accept it. They may need to get their attorneys involved, and it can become a frustrating process for the buyers who are waiting for an answer. The buyers may feel they are being treated unfairly, and may be concerned about other offers coming in to compete with theirs. These are all valid concerns. As a buyer, you or your agent may not be able to do anything to speed up the process. In fact, the seller's agent usually can't either. Thus, it is not uncommon for buyers to just move on a purchase something else.
3. There may be misunderstandings of what items stay with the house. Getting everything that was agreed upon, such as appliances, fireplace tools, window coverings, etc. may turn into an issue. Often clear communication and understanding between the parties does not exist. An unhappy spouse may decide that they paid for a specific item, or an item was a gift, or they handmade the curtains . . . any number of reasons . . . and may end up taking the item. It's very important that you conduct a final walk-through of the property the day of closing to ensure everything that is supposed to stay with the house is still there. You can hold up the closing until the issue is resolved.
4. Routine maintenance may not have been done on the house for quite a while. In the case where the husband leaves the home and the wife is occupying the property, regular maintenance may not be happening. Perhaps the wife isn't aware of the need for the maintenance, and the husband doesn't want to go over to the house and do the maintenance to avoid unpleasant encounters. Be sure you have a complete home inspection conducted by a professional. You should also be present for the inspection so you can talk to the inspector about maintenance and get tips on how to best take care of the major elements of the home.
Of course, we're not saying that these kinds of issues will always happen when buying from a couple going through a divorce. Often things will go smoothly and everyone cooperates and meets deadlines. But, for the times when the divorces are messy, just remember that you may need to be extra tolerant and patient when buying the home. If it's the home you really want, then it's all worth it in the end.