Dutchess County Real Estate Market Update April 2015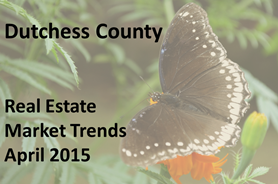 Dutchess County real estate market statistics through the end of April show that the market continues to move in the right direction.
There were 584 sales of single family homes (attached and detached) for the first four months of 2015 compared to 517 in 2014, an increase in the number of closed sales of 11.5%. Sales in the month of April 2015 were 33.3% higher than in April 2014, so perhaps an even more robust trend is emerging . . . it's too early to tell.
The average selling price is approximately $280,000 for detached single family homes, and they are taking, on average, 149 days to sell. Condos and townhomes are selling at an average price of approximately $175,000 and are taking 123 days, on average, to sell. These averages are very similar to last year's statistics.
Inventory of listings continued at about the same level as last year for all residential properties. As of the first of April there were 1,969 available homes for sale in Dutchess County, down from 2,058 on April 1, 2014.
Our offices and agents are all very busy working with buyers and sellers! There are great homes available to purchase, the interest rates are low, and you get a lot of house for the money in the Mid-Hudson Valley. Spring is a great time to find your new home. Contact us any time for assistance.