Go USA Team!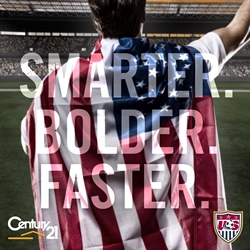 The U.S. Men's National Team will face Belgium in the Knockout Round of the 2014 FIFA World Cup. This marks the first time in history that they have advanced to this level in two consecutive World Cups.
Pride and enthusiasm for U.S. Soccer is at an all-time high! TV viewership and online streaming of the U.S. World Cup matches are continually smashing ratings records. Local viewing parties have moved from city parks into Professional Sporting Arenas – because the interest is so infectious!
CENTURY 21 is a part of this story with our sponsorship and commercials airing during World Cup Studio programming on ESPN2. This is a great time to be the Official Real Estate Sponsor of U.S. Soccer.
Join the U.S. Worldcup fever and support our team and our country on the world's stage at 4:00 pm EDT on ESN, watch ESPN, univision and ESPN radio.