How Small Is The Median Down Payment For First-Time Buyers?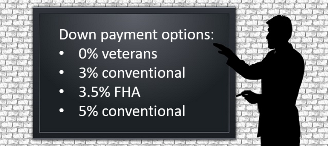 Although the median down payment for a home for first-time home buyers is 6%, many buyers secure mortgages for as low as a 3% down payment, and veterans qualifying for a VA loan can realize a zero down payment.
So, for a $250,000 home, a buyer could conceivably invest less than $10,000 by having the seller pay for most of the closing costs. Some loan programs even permit the down payment to be a gift from a relative. The approximate monthly payment for a $250,000 home, with a 3% down payment, assuming a 30-year fixed mortgage with a rate at 4%, would be $1,150 per month. Add in taxes and homeowners insurance for the complete payment amount, which will vary per property.
Don't assume you can't afford your own home. If you qualify for the payment, and your credit is in the 'good' range, there are a plethora of loan programs available to help you achieve your goal.
Contact us to discuss your unique situation, and we can help you make the transition from renter to homeowner.
Read more about down payment misconceptions vs reality. Report: Down Payment Myths Prevail - A new survey from NAR shows many consumers are assuming they have to pay a bigger down payment than they actually need.
[NAR Daily News Magazine]