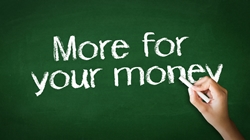 The good news for buyers is that mortgage interest rates continue to hold below 4%.
Freddie Mac's weekly survey of lenders showed that for the week ending January 7, 2016, the average rate for a 30-year fixed-rate mortgage was 3.94% with an average of 0.6 point, and the 15-year fixed-rate mortgage averaged 3.26% with an average of 0.5 point.
Those are average rates, not the rates that everyone will get. Understanding the factors used to determine the interest rate that you may be offered are important to help you make good decisions. What are they?
Credit Score
Home Location
Home Price and Loan Amount
Down Payment
Loan Term
Interest Rate Type
Loan Type
The Consumer Financial Protection Bureau has a thorough explanation of how all these factors work together to determine the interest rate and an interactive tool to help you understand how interest rates change as each factor changes. The more you know about it, the better equipped you will be to find the best mortgage to fit your needs (and save you money!).