Lenders Now Offering ZERO Downpayment Mortgages!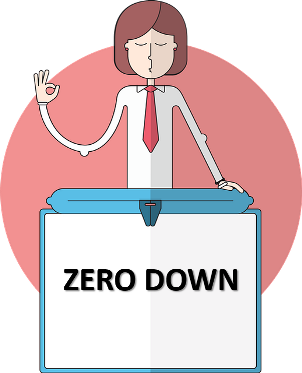 Zero and low down payment mortgages were blamed in large part for the housing crisis. But the much bigger issue was that lenders were lending money to people who couldn't afford to pay, and to people who were very bad credit risks. There were many factors that landed us in the crisis, and the zero and low down payment mortgage products were just one of the contributing factors.
Things are a lot different today. Qualifying standards are much more stringent. Most lenders have checks and balances in place to assure they are only lending money to people who can afford to make the monthly payments and who are good credit risks.
It makes a lot of sense to bring back zero and very low down payment mortgages in today's environment. Several major lenders are now offering loans with as little as 1% down, and one major lender has announced a zero down mortgage program.
Movement Mortgage recently introduced a financing option that provides eligible first-time buyers with a non-repayable grant of up to 3 percent. This allows applicants to qualify for a 97 percent loan-to-value-ratio conventional mortgage. The grant money covers the 3% down payment so the buyer doesn't have to come up with their own funds. Note that the seller can also contribute toward the buyer's closing costs, potentially reducing the buyer's upfront costs to virtually nothing.
Navy Federal, the country's biggest credit union, and NASA Federal Credit Union also offer zero-down mortgages. Quicken Loans offers a 1 percent-down option, as does United Wholesale Mortgage. If you are a veteran, you can get a zero-down loan backed by The Department of Veterans Affairs from most lenders who participate in government-backed loan programs.
As mentioned above, qualifying standards for these loans are stringent, and buyers must demonstrate, not only the ability to pay, but must also have very good credit scores. United Wholesale Mortgage's minimum FICO credit score is 720. Quicken Loans' minimum is 680, but most buyers who use the program have an average score of 750. Movement's minimum is just 640 in most parts of the country, but it would be interesting to know the average score of their approved buyers.
In exchange for the low cost of entry, you can expect to pay higher interest rates of approximately 1/2 to 3/4 point over the current rate.
We expect to see more (and different) mortgage products introduced in the near future to help young people become homeowners. As home prices continue to rise quicker than wages in most parts of the country, homeownership is getting further from people's reach .Our advice to the would-be first-time-homebuyer is to pay your bills on time all of the time, work to pay down your debts, and closely maintain and monitor your credit score.
If you would like to be a homeowner and want to talk to a professional about your options, please don't hesitate to contact us for help. We work with buyers just like you every day.
Source: Washington Post