Is a Renovation Loan Right For Your Home Purchase?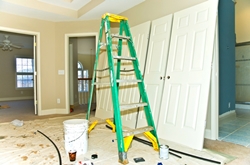 You found a house with great potential in the perfect location, but it needs a lot of work. You may want to consider a renovation loan.
What is a renovation loan? With a renovation loan a homebuyer finances both the purchase price of the house and the cost for repairs. The loan is based on the after-improved appraised value of the property. The buyer makes only one loan and one monthly payment.
All renovation work must be completed after closing by a buyer-selected contractor, and funds are held and disbursed by the lender to the contractor as the work is completed. Repairs must start within 30 days and be completed within 6 months.
The renovations can be required repairs to bring the property up to minimum property standards, or they can be optional repairs to modernize a property. Repairs that fall within the guidelines include (but are not limited to) the following:
• Replace roof
• Upgrade electrical
• Plumbing repairs
• Repair termite damage
• Interior or exterior paint
• Mold remediation
• Room addition
• Kitchen update
• Bathroom remodel
• Paint
• Landscaping
• New carpet
• Finish basement
An FHA renovation loan can go up to a 110% of the after-improved appraised value. There are low down payment options available from 3.5 to 5%.
The different renovation loan programs are FHA 203K Full, FHA 203K Limited, and Fannie Mae Homestyle. Your lender can help you determine which loan fits best with your particular situation.
Contact us for further information, for a referral to a qualified lender, or to help you find that perfect place.