Should You Buy A Duplex And Have A Renter Help Pay Your Mortgage?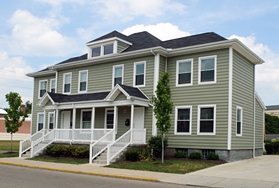 It's very possible that the best first home for you may be a multi-family home. Having a tenant to help pay your mortgage can really pay off.
A duplex is a single building with separate units and separate entrances. You can live in one of the units and rent out the other. Being a first-time homebuyer and landlord can work well together, especially if you live on the same property as your tenants. As a new homeowner, you may be more flexible about your living arrangements, having lived in apartments, and perhaps are without too many other heavy responsibilities such as children.
Many first-time buyers who purchase a duplex and rent out the other unit are working to prepare themselves for the next property . . . perhaps a single-family home where they plan to start a family. The plan may include keeping the duplex as an investment, renting both sides, and using the supplemental income to help with the next home purchase and begin building steady long-term wealth.
Using your tenant's rent as additional income can allow you to qualify for a pricier home. In some cases, you can put down a smaller amount than you think, perhaps in the 5-10% range, which you can save from the extra income you receive each month from the tenant.
Most home buyers tend to shy away from this type of investment because of the responsibilities involved. It's certainly helpful to have some home maintenance knowledge and skills so you can take care of tenant issues yourself in many instances. You will also need to have a good plumber, electrician, and handyman to call when your tenants have an issue that you can't fix. You also need to have the resolve and tolerance to deal with tenants, issues and problems of all kinds.
The most important thing is to find the right tenant. A good, dependable and conscientious tenant makes all the difference. Also, ensure you have enough in your emergency funds to take on unexpected scenarios, even if you're handy at home. Prepare to have serious conversations, such as rent hikes, and know the rules in your area, such as mandated heat requirements. Also be ready to show the home and place its availability on sites renters search as soon as you learn your tenant is moving out.
To find great investment homes in the Hudson Valley, click on Property Search to access the Advanced Search Form, and then narrow your search by Property Type (multifamily) and Sub Property Type for number of units. Of course, choose your area and price range to find properties that meet your criteria.
Contact Us and let us know what you are looking for. We will make sure you don't miss a thing . . . and will go to work for you to help you achieve your goals.