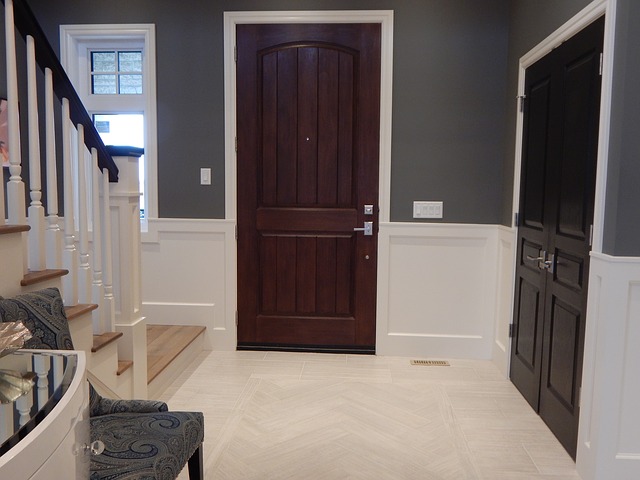 Potential buyers' memories and emotions about your house are affected, in part, by the colors of your walls, floors and furnishings. Color plays a big role in our emotions. Some colors make us feel happy or relaxed, and some colors may make us feel nervous or anxious.
If you're getting your home ready to sell, choose the colors you paint your rooms wisely.
Here is some helpful advice on how colors affect people and how you can use this knowledge to help get your home sold.
Let's take a look at some of the most popular colors in home decor. It's relatively safe to choose colors for your home from the HGTV Collection at Sherwin-Williams. They have been hand-picked by renowned designers for wide consumer appeal, and are used in many of the HGTV Homes that are given away each year. If you're selling your home, stay with more neutral and muted colors . . . nothing too bright. Check them out here: http://www.sherwin-williams.com/homeowners/hgtv-home-by-sherwin-williams/color-palettes/.
Blue: Blues in lighter and muted hues can create a feeling of tranquility and are reminiscent of water, the oceans and lakes. Using peaceful 'spa-like' blues are great for creating a relaxing and peaceful environment. The range of soft and muted blues work well in bathrooms and bedrooms. You can also create drama and a feeling of cozy and inviting with darker shades of muted blues, like the dark blue/gray color used in the foyer image above.
Green: Green is the color of nature, and is generally calming and soothing. Pale shades of green are perfect for bathrooms. Darker shades, and more 'earthy' shades of green create a sense of peace and quiet and are well suited to a den or office, or any cozy relaxing place in your home.
Gray: Gray is wildly popular as a choice in home decor, and is a really great color to use that will appeal to many. Most gray shades blend well with other colors, making this an ideal choice for connecting spaces such as hallways and entryways. Keep in mind that the more beige-based gray colors will create a warm comfortable feeling, where a more blue-based gray will have a cooling effect. With that in mind, when using grays, be very aware that they can create a completely different feeling, depending on the hue. If you are using gray to join spaces together or as an accent wall, then stay with the either warm or cool hue of the area.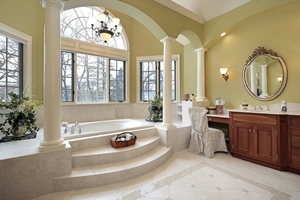 Yellow: Yellow is associated with sunlight, so it creates a feeling of happy and light. We are not recommending bright yellow shades, but more muted buttery yellow colors. A rich light buttery hue looks beautiful with rich white woodwork and cabinets and hardwood floors. It creates a feeling of joy in family gathering places such as kitchens, family rooms, living rooms . . . well just about any room. Look how lovely yellow is in this bathroom photo.
Brown: Brown, like green, is associated with nature and has a calming effect. Brown shades range from a light beige to a richer earth tone. Shades of brown are very popular, just like the gray shades and can be used together to create a very upscale look. Browns and beiges are perfect for family gathering spaces like family rooms and living rooms.
When choosing colors for your home, avoid bright colors and stay away from reds/purples/oranges because depending on how they are used they may create feelings of anxiousness. You want your home to feel inviting and comfortable to potential buyers . . . so they can 'feel' themselves living there.
Choosing paint colors can be overwhelming! There are so many choices! The range of colors in the HGTV Neutral Nuance Pallette is probably all you need to spruce up your home in colors that will appeal to most potential buyers. Just be sure to match the paint colors with your existing flooring and furnishings and choose either a satin or flat finish for the best possible outcome.