There Is A 32% Or Greater Chance Your Home Will Be Purchased By An 18-34 Year Old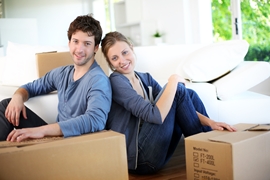 According to a recent National Association of REALTORS® survey, the group of Americans referred to as 'Millennials', 18 to 34 year olds, made up 32% of the home buying market last year. As this group matures, it is predicted that they will become an even larger group of homeowners than the 'Baby Boomers' . . . there are more of them.
Typically this group of young home buyers do their research on line to learn about home buying ins and outs, they pretty much know what they want, where they want to live, and have found homes on line that they want to see. They are busy, want to cut to the chase, and rely on their real estate agent to handle all the details more than any other group of buyers.
Rising rents, new low down payment loan options, the reduction in private mortgage insurance, and the improving job market have all been major contributing factors driving young people to purchase their own home. Here are a few interesting statistics about the 'Millennial' buyers:
Their median income is $76,900
97% of them financed their purchase
Their median down payment was 7%
25% of them used gifted money to help them purchase
Fannie Mae and Freddie Mac now both have 3% down payment programs to compete with FHA's programs. These newer programs should effectively lower the median down payment percentage from last year's 7%. There are also first-time homebuyer loan programs available from FHA, and various other institutions, both state-wide and locally. These programs generally provide some level of down payment assistance, and may have different requirements for income levels, veterans, and other groups.
Would-be first-time buyers, you should contact a lender to discuss what kinds of loan programs best fit your unique situation, and get a Pre-Approval prior to viewing homes. A good lender will ask you all the right questions to determine what your best options are and will provide you with a plan to move forward. Today a Pre-Approval letter from a lender is necessary to get an offer accepted by a seller.
We're always here to help answer your questions or assist you in any way we can to help you achieve your goal of home ownership. Please don't hesitate to Contact Us for assistance.