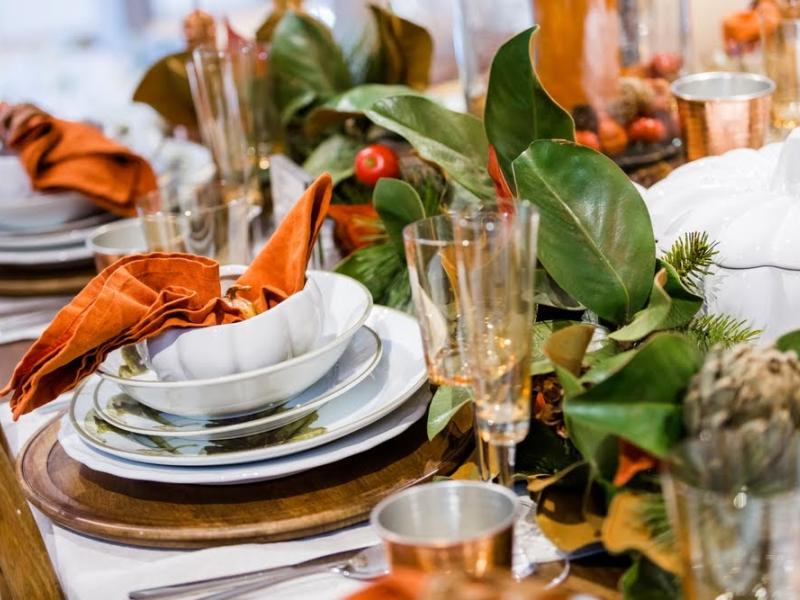 Hosting the perfect Thanksgiving dinner is often the goal of many families and here are some ideas that will make this year a year to remember.
The first impression your guests will encounter will most likely be the front porch and door. Gathering a selection of pumpkins and gourds on your landing is the perfect way to fully invest in the season. A festive fall foilage wreath will welcome them as they knock on your door.
Finding a consistant color scheme for your decorations will tie in everything nicely. Whether it is a bold red and orange theme packed full of bright orange leaves and deep maroon ribbon to a muted cream or silvery tone with sprinkled metallics you are sure to wow your guests. Staying within a strict decor theme will help provide a flow of color throughout your home.
Reasons for being thankfull are a lovely way to get your guests engaged with each other. Having a writeable chalk board or perhaps a matte from a picture frame that can be customized with "reasons to be thankful" are some ideas to make a fun keepsake. Gathering everyone into a group picture is a great way to remember the holiday.
Great lighting is essential to creating the perfect mood. Using candles or battery operated tea lights as luminairies along your coffee table or mantle will give your home a welcoming feel. Be sure to offer enough seating for your guests as they mingle throughout the space.
The culmination of all your decor is most obviously the dinner table. This area should bring in a little of everything when it comes to design. Whether you are presenting a more formal table with place cards and creative napkin holders or if it is more simply presented it should represent a warm and inviting look and feel. A table cloth or table runner can bring everthing together nicely so be sure to find something that works within your chosen theme.
Making sure your guests feel comfortable is the ultimate goal so trying to avoid embarrassing momemts is key. Having extra toiletries and available towels within your bathroom is always a good plan.
Following these guidelines will make for the perfect holiday and will have your guests boasting about your hospitality.