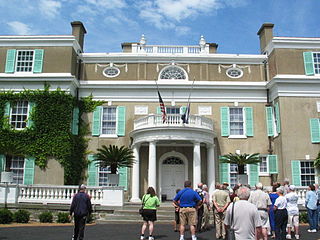 The historic town of Hyde Park is probably best known for being the hometown of U. S. President Franklin D. Roosevelt. His grandfather's home there, the Isaac Roosevelt House, is listed on the U.S. National Register of Historic Places, as are the homes of Franklin D. Roosevelt himself, Eleanor Roosevelt, and Frederick William Vanderbilt, along with Franklin D. Roosevelt High School.
Hyde Park is situated on 39.8 square miles and had a population of 21,587 at the 2010 census. The Hudson River defines the west town line, which is at the border of Ulster County. Hyde Park also borders the town of Poughkeepsie to the south, Rhinebeck to the north, and Clinton and Pleasant Valley to the east.
The town includes the hamlets of East Park, Hyde Park, and Straatsburg. Route 9 passes through the town near the Hudson River. Public transportation in Hyde Park includes the Dutchess County LOOP Bus, Poughkeepsie Amtrak Station, and Metro-North Railroad to New York City.
Photo: The house where Franklin Delano Roosevelt lived in now a National Historic Landmark author GK tramrunner at en.wikipedia.
Javascript is required to view this map.