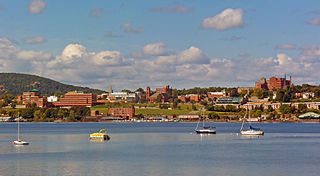 Newburgh is a city located in Orange County, New York, 60 miles north of New York City, and 90 miles south of Albany, on the Hudson River. Newburgh is a principal city of the Poughkeepsie–Newburgh–Middletown metropolitan area, which includes all of Dutchess and Orange counties.
As of the 2010 census the population of Newburgh was 28,676.
Newburgh is served by the Newburgh Enlarged City School District. The local high school is called Newburgh Free Academy or "NFA", and is the largest public high school in Orange County. It serves approximately 3,000 students in grades 9-12 from the Newburgh area. Two middle schools and numerous elementary schools feed into NFA.
Photo: View of central Newburgh, NY, from the Beacon train station across the Hudson River, Author Daniel Case.
Two colleges are also located in Newburgh, Mount Saint Mary College and the Newburgh campus of Orange County Community College.
Stewart International Airport serves the city. Metro North Railroad accessible via the Newburgh–Beacon Ferry during peak hours connects to the Hudson Line, with frequent service to Westchester County and Grand Central Terminal in New York City. There is also service on Metro North Railroad nearby in Salisbury Mills-Cornwall on the Port Jervis line to Hoboken Terminal and Secaucus Junction in New Jersey with a connection to Penn Station in New York City.
Javascript is required to view this map.