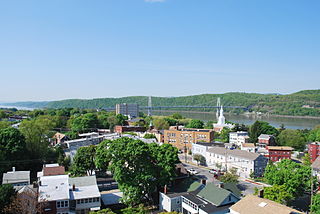 The Town of Poughkeepsie located on 31.2 square miles in Dutchess County in the Hudson Valley was home to 44,090 residents as of the 2010 census. The town borders the Hudson River, which marks the boundary of Ulster County. U.S. Route 9, U.S. Route 44 and NY State Route 55 pass through the town.
Poughkeepsie is honored to be the home of such prestigious institutions as Vassar and Marist Colleges as well as Dutchess Community College. There are also many historic landmarks in the town as well as 22 parks offering recreational activities including hiking and walking trails. Residents and visitors enjoy the abundance of fine dining, art exhibits, festivals, fairs and farmer markets.
Photo: Bird's-eye view of Poughkeepsie, New York from the Walkway Over the Hudson. The Hudson River is visible in the background. Wilipedia.
The Town of Poughkeepsie includes the City of Poughkeepsie, as well as the communities of Arlington, Colonial Heights, Crown Heights, Macdonnell Heights, New Hamburg, Red Oaks Mill, Rochdale, Spackenkill, Wappinger Falls, and Van Keurens.
The Arlington Business District of Poughkeepsie is the business and community center of the area and the home to Vassar College. Arlington's rich culture and collection of cuisine and specialty retail shops makes it one of the most vibrant communities in Dutchess County.
Amtrak provides regular service to Poughkeepsie. Poughkeepsie also has commuter rail service via the Hudson Line (Metro-North).
There are several school districts in the immediate area, such as Poughkeepsie City, Arlington, Spackenkill, and parts of Wappingers and Hyde Park's districts.
Javascript is required to view this map.