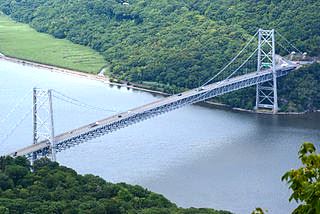 A small village of approximately 5,500 residents, Wappingers Falls is located in the County of Dutchess, 2/3 of it situated in the Town of Wappinger, and 1/3 in the Town of Poughkeepsie and is approximately 70 miles north of New York City.
It is located between the Newburgh-Beacon and Mid-Hudson Bridges just east of the Hudson River, easily accessible from US Highway 9 and State Route 9D.
The Wappingers Falls Historic District includes downtown, several adjacent residential neighborhoods, and Mesier Park & Homestead. Mesier Park hosts many annual events that focus around the band stand and tree lined paths of the park. In 1984 the district was added to the National Register of Historic Places.
Photo: Bear Mountain Bridge to Wappinger Falls, NY, author Fran Trudeau.
The village's business district along West Main Street north and south of Wappingers Creek, is lined with three-story Italianate row buildings dating to the years after the Civil War. The residential streets to the southwest are filled with larger houses in a variety of 19th-century styles, from Greek and Gothic Revival to Second Empire and Queen Anne.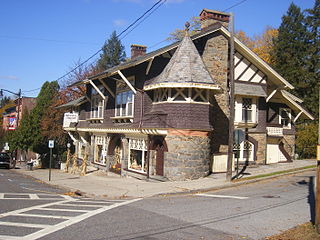 The village also holds claim to New York State's 6th oldest library, the Grinnell Library.
The New Hamburg Metro-North Railroad station serves the residents of Wappingers Falls via the Hudson Line. Trains leave for New York City every hour on weekdays, and about every 25 minutes during rush hour. It is 65 miles from Grand Central Terminal and travel time to Grand Central is approximately one hour, 36 minutes.
Javascript is required to view this map.