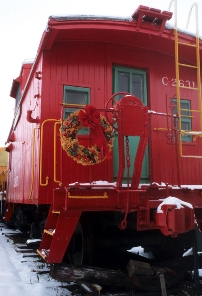 We have so many special and unique resources here in the Hudson Valley. The Polar Express experience during the holiday season is just one of the must-do activities with your small children or grandchildren that believe in Santa Claus. It is so magical!
The Polar Express trains depart from Kingston Plaza and take riders on a magical journey set to the sounds of the motion picture soundtrack. Pajama-clad passengers relive the magic of the story and see their favorite characters come to life as they are whisked away aboard The Polar Express on a round trip to the North Pole.
The conductor comes around and punches tickets and chefs serve hot chocolate, just like in the film. There is also a sing-along and a special reading of the classic story. At the North Pole, Santa boards the train to greet the children and gives a special sleigh bell to all those who believe.
Bring the children dressed in their PJ's so they really feel like they are in the story.
Here is a link to the Catskill Mountain Railroad for tickets. Happy Holidays!