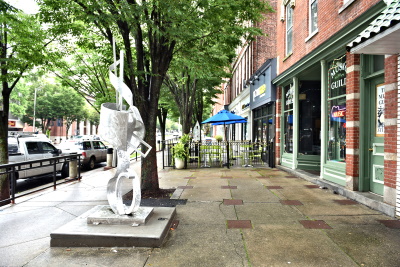 The Connecticut city of Danbury, located in Fairfield County, is situated near the New York State border, about 70 miles northeast of Manhattan, 35 miles west of New Haven and 60 miles southwest of the state capital of Hartford. Interstate I-84 goes through the city, as do U.S. Route 7 and Connecticut State Highway 58.
In November 2015, USA Today ranked Danbury as the second best city to live in the United States. The diverse mixture of cultures and socio-economic levels has produced a cosmopolitan balance in a city where there is a place for everyone. The schools, churches, and various organizations make it a great place to live and raise a family with a host of opportunities for entertainment and leisure time activities.
One of Connecticut's most ethnically diverse cities, Danbury welcomes residents from Ecuador, Portugal, Brazil, Lebanon, Poland, Peru, India, Vietnam, Cambodia, Mexico, and other countries and recognizes 43 different languages spoken in its schools.
One of the biggest shopping malls in New England, the Danbury Fair Mall was first opened in 1986. The mall is made up of approximately 200 different stores and restaurants spread out over 1.2 million square feet.
Danbury offers a number of options for recreation and sightseeing. Outdoor recreation in the form of picnicking, swimming, and boating is available at Candlewood Park, which overlooks Candlewood Lake. Tarrywile Mansion and Park, the largest city-owned park in the state, houses an historic Victorian mansion and also contains numerous trails and ponds on its 600-plus acres. Cultural sites in town include the Military Museum of Southern New England, featuring a collection of 20th century American military history of all of the nation's armed services. The Danbury Railway Museum chronicles the history of railroading, offers rail excursion trips, and houses a collection of items including original and restored railroad artifacts. The Danbury Museum and Historical Society chronicles New England's past offering numerous displays and exhibits as well as summer activities for children.
Performing arts in Danbury can be found in numerous places, including Ives Concert Park, where many rock legends have performed. The Connecticut Choral Society is an ensemble comprised of singers from more than 20 Connecticut towns who have appeared at Carnegie Hall, toured internationally and performed on network television. The Connecticut Master Chorale is a premier vocal ensemble which presents three large annual concerts. The Danbury Music Centre, housed in a beautifully restored 19th century building, is the prime site in the city for performances of classic and modern musical compositions.
Javascript is required to view this map.