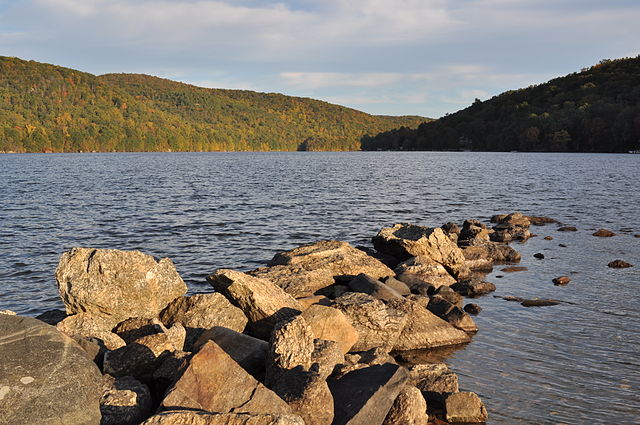 Located on the New York border, New Fairfield is one of five towns that surround Candlewood Lake, the largest lake in Connecticut. Tucked in among green hills and forests with limited commercial development and many fine restaurants, it is a well known summer vacation community. Major commuting routes include State Routes 37 and 39 and Milltown Road from New York State.
There are four lakes in New Fairfield: Candlewood Lake, Squantz Pond, Ball Pond, and Margerie Reservoir. Candlewood Lake dominates the eastern side of the town and extends both north and south beyond the town borders.
Although once a summer resort town, the lake shore within New Fairfield is now mostly populated with year-round homes. Many communities have large houses with direct waterfront access to Candlewood Lake, such as Sail Harbor, Candlewood Isle, and Bogus Hill. There are many newer subdivisions off Warwick Road, Route 39/37, Pine Hill, Beaver Bog, Dick Finn, and Shortwoods Road.
Residents enjoy boating, pond fishing, swimming, scuba diving, picnicking, hiking and ice skating as well as hiking, biking, snowmobiling and hunting.
New Fairfield is close enough and affordable enough to live there and commute to New York City, approximately 65 miles south. The natural setting in the green hills and forests is beautiful with limited commercial development and no traffic problems. The community also offers great programs for residents of all ages.
Javascript is required to view this map.