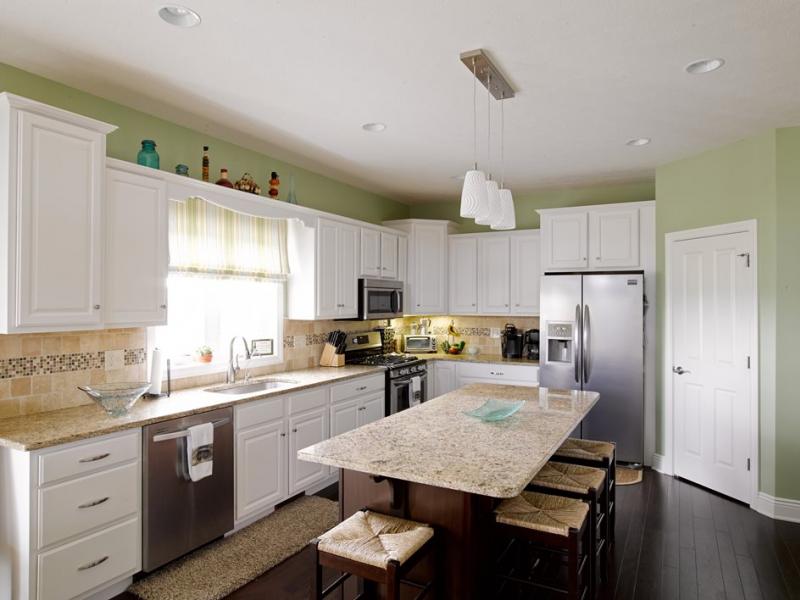 No one is immune to house fatigue. Regardless of how much you love your home, there's no shame in admitting that it's lost some of its luster over the years. Although you might have dreams of a complete redesign, the cost of a major renovation is prohibitively high for many home owners. Luckily, small changes can often have oversized effects on our perception of otherwise familiar spaces! In this post, you can read about 10 low-cost improvements that will bring new-home excitement back into your old house!
1. Update your fireplace
Your fireplace should be a focal point, but if its style is boring or outdated, it can bring down the feel of the whole room. Luckily, there are lots of great options to make it seem like new! It's really incredible how a few coats of glaze or some planks of wood can completely transform the look of even the most drab fireplace. To make a real statement, how about re-covering it with slate or marble-look 3"x12" tiles in a herringbone pattern? All of these ideas will provide a high-end look for a very low cost.
2. Install new faucets
It's amazing how much of a difference updated faucets can make in any kitchen or bathroom, even without purchasing expensive options. By changing one of the most-used objects in the room, it will give the entire space a new feel! Here's a quick guide with important things to consider when choosing a faucet that is both stylish and functional.
3. Install new drawer/cabinet hardware
While you're measuring for that new faucet, take a look at the handles and knobs on the front of your storage spaces. Are they worn, broken, or just plain dull? Replace them! Installing new drawer pulls and cabinet knobs is easy and inexpensive, while still increasing the appeal of the space.
4. Paint your cabinets too
Continuing the trend, you might as well paint those cabinets while the hardware is off! A fresh coat of paint can make even the most outdated cabinets look like new. There's tons of design inspiration to be found on Pinterest, but here is one example of an incredible transformation with just new cabinet hardware and paint.
5. Spruce up your entryway
Believe it or not, your front door is one of the most effective targets when it comes to upping the appeal of your home. Painting your front door an unexpected color will make your home have major curb appeal. While you're out there, replace your weathered welcome mat and either refinish or paint your house numbers; you can even purchase new fanciful house numbers that add some serious pizzazz. Check out some of these great ideas.
6. Replace your old light fixtures
Try to find interesting designs that complement the style of your home. You can find amazing values on quality fixtures at places like Lamps Plus Open Box, Lumens Open Box, and even moving sales and flea markets. Lighting is one of the most important elements of your home, both from a design and a functional perspective, so the right fixtures will definitely add value.
7. Add dimmer switches
Even existing lighting can be made to feel new by adding dimmer switches, especially in the main living areas. Dining areas and kitchen islands are often the most effective locations for a dimmer switch, as it allows you to reduce the light during an intimate dinner and increase it to max power for a round of cards with friends. For overhead lighting in bedrooms and baths, dimmer switches help you ease into sleep and welcome a new day without the harsh light jolt in the morning.
8. Replace your shower head
If you haven't replaced your shower head for many years, you will be amazed at how much improved the shower experience can be with a new one. Choose a low-flow unit and you'll get virtually the same sensation of water flow while saving money on your water bill. If the water flow from your existing shower head is already low (and shouldn't be), check to see if hard-water deposits are clogging the holes.
9. Redo your kitchen backsplash
A new backsplash in ceramic or glass tile can transform the mood of your kitchen. There are many beautiful and affordable selections at your local home improvement store, so you should be able to find something you like that will give your kitchen wow factor. Of course, there's no shortage of inspiration on Pinterest.
10. Build a window seat
Who doesn't love the charm of a window seat? If you have an empty alcove at a window, it's just begging for a window seat to increase its form and function. To make it extra useful, put storage underneath with either open shelving or covered storage. Materials for the seat will cost about $60 at a lumber yard. If you can sew, you can make a window seat cushion yourself. Here's a fairly in-depth guide on how to make the perfect window seat for any space.
There you have it; 10 low-cost ideas that can bring that new feeling back into any old space! Not only will these make you happier in your home, but they will also add value if you decide to sell down the road!