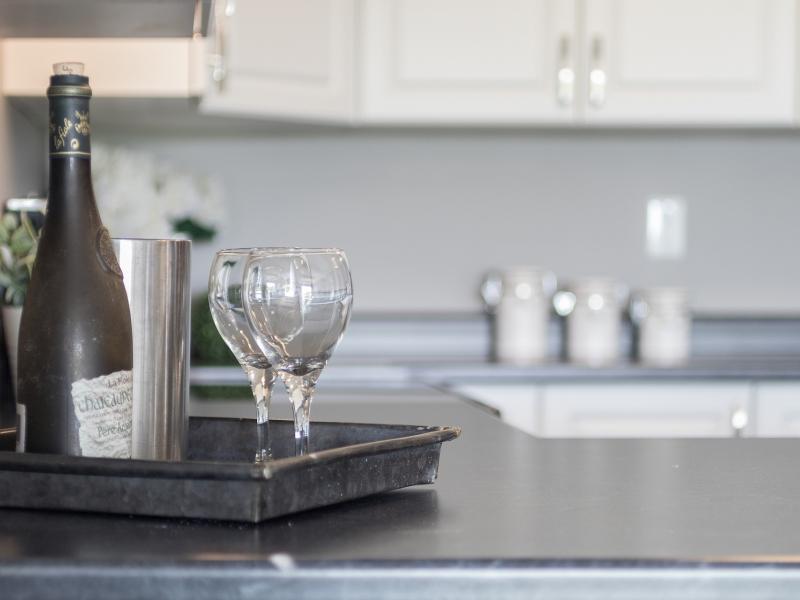 Kitchens sell houses . . . and bad kitchens cause houses to take longer to sell and for less money.
Here are some good ideas for making your kitchen more appealing without spending a ton of money. You can do all these yourself for just the cost of supplies, and the resulting improvements can easily add many thousands to the value of your home.
1. A fresh coat of paint is one of the best boosters of a space, and if you do it yourself it is very inexpensive . . . the cost of a gallon or two of paint and perhaps a roller, brush, tape, and a few other supplies that you can re-use for the next project.
2. Replace or add hardware to your existing cabinets. Hardware is like jewelry for your cabinets, and updated hardware can make a dramatic difference at a very low cost . . . and it's easy.
3. Paint your old cabinets. All cabinets can be painted, even laminate ones, with the right products. Here is a resource that describes the process of painting your kitchen cabinets. This is inexpensive if you do it yourself, but it will take some time and patience. The results are fantastic and can totally transform the look for your old kitchen.
4. Is your faucet old and outdated? You can replace it yourself if you're pretty handy, but most folks go buy a faucet and then call their plumber to ensure it's done right. If your sink is dull, stained, or otherwise unattractive, replacing your sink is also a good idea, especially if you're adding a beautiful new faucet. Once again, you can do this yourself, but as long as the plumber is going to be there anyway . . . uh, getting it done right is important. Here are some do-it-yourself instructions.
5. Replace the lighting fixture(s). Lighting fixtures can really set the tone for the room. Don't buy the cheapest fixture you can find, shop for a good value. If you don't have any idea how to pick out a nice fixture for the space that is the appropriate size and shape, take a photo of your kitchen where the fixture(s) will be and take it to the store with you. Someone there can help you find a nice option within your budget. Once again, you can do this yourself, but if you're uncomfortable with electricity you can find an electrician who will install it for you (in most areas) for around $100. Here is a video about how to install a new lighting fixture.
6. Changing the backsplash will add instant pizzazz to your space. There are so many great options for backsplash tiles at various price options. You will be able to find something really nice within your budget. Check out some instructions for tiling your backsplash. It's really not that difficult.
Then there are the more expensive fixes . . . replacing the flooring and the countertops and getting new appliances. There are lots of inexpensive options that you can explore. Lately we have seen some interesting d-i-y projects of homeowners who painted their old vinyl floors. Yes, you can actually paint pretty much anything these days. Here is a link to instructions on how to paint your old vinyl floors.
And, of course, the obvious . . . get rid of all the clutter. Clean out your cabinets and pack away everything that you are not going to use for a long time. Your countertops should only have the necessities on them . . . only things you use everyday that can't be put away.
So, for less than a few thousand dollars in supplies, and some time and energy, you can have a kitchen that sells!