6 Tips To Make House Hunting Fun For The Kids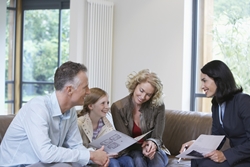 There's no doubt that moving is one of life's more stressful events, and it is in everybody's best interest to try to keep the kids happy and feeling secure during the process.
It may take some extra time and patience, but Including your children in your home search can pay off big by helping them better adapt to change and ease their anxiety.
Here are 6 ideas to get the kids engaged in the move:
1. Introduce your children to your real estate agent and let them develop a relationship. Ask your agent to try to include them in on the conversations, when appropriate, and make them feel like their feelings and opinions matter.
2. Give them an important job to do. Let them search for homes for sale within your parameters on the internet, and review the ones they pick with them as well as the ones that you like. Discuss the pros and cons with them, and have them keep track of the ones that suit your family the best.
3. In the context of #1 and #2 above, make sure they know they are NOT in charge, that the final decision is up to mom and dad, but that you respect their concerns and opinions.
4. Before you view homes, take the children for a tour around town and show them the fun things to do there. If you have time, perhaps do a few things, and eat at some places that they will like. Make it a fun day.
5. Review a list of behavior rules with them prior to viewing homes. Children should be on their best behavior and respect the property of others. If they think of house hunting as a job, then they are more likely to behave in a more mature manner.
6. To keep them grounded during house viewings, make sure you have healthy snacks and drinks in the car so they don't have blood sugar swings leading to erratic behavior.
The bottom line is . . . make house hunting as much of a family affair as possible and do your best to get the children involved and committed to finding the best new home.