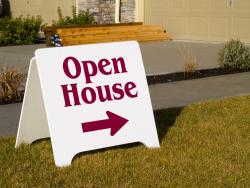 As a home buyer, looking at photos can only take you so far; after all, those photos have been carefully chosen by the seller to try to make their house look as nice as possible. Attending an open house is therefore an important opportunity for you to get an unfiltered, live look at what could be your next home! Although it can be easy to get caught up in the excitement of being in the house for the first time, you should try to pay close attention for any potential issues that might be lurking under the surface. Keep reading for some examples of details that you should be on the lookout for during any open house.
How does the roof look?
Start your open house by looking up before you even enter the home. Does the roof have any shingles that are missing, broken, or warped? Be sure to ask how old the roof is and whether the current owner has had any issues with it.
Inspect the windows
If the home has older windows, test to see if they still open and remain open without falling shut. For newer windows with multiple panes, make a mental note of any condensation forming between the sheets of glass. This indicates a problem with the seal between the panes, which compromises the window's ability to insulate properly and can mean that they were installed incorrectly. Check out this helpful article which details the difference between condensation on the outside, inside, and interior of a window.
Take a deep breath
Can you smell any odd or unpleasant odors? Bad smells can indicate mold/mildew, pets that might otherwise be hidden, and poor cleaning/maintenance.
Look under the sinks
Open up cupboards under sinks to make sure that the plumbing isn't leaking. Also, check for signs of past water damage, such as mold, discoloration, or warping of the wood.
Head downstairs
Always explore the basement, even (especially) if it isn't finished. Be on the lookout for water or the signs of water damage listed above, as well as cracks in the foundation.
These are just a few of the details to check out during your walkthrough of the home. For more examples of important items to inspect and questions to ask, check out this article from the Washington Post.