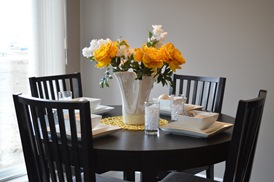 Everyone wants their home to look like it's been staged by HGTV designers, but the cost may be prohibitive for some sellers. Depending on the location and fee structure, a professional home staging can set you back anywhere from $50 to $150 per hour and take many hours of work to achieve a complete multi-room look. Of course, there is no doubt that professional staging gets homes sold faster and usually for more money, which makes the expense a tough decision for a home seller on a budget. Luckily, there there are some inexpensive things you can do to your home to present it at its best to potential buyers without breaking the bank!
Pack Away ALL Personal Items
We mean ALL. Packing away your personal items is one of the simplest — and cheapest — things you can do to stage your home. It might not seem important to you to de-personalize your home, but it helps buyers picture themselves and their families living in your home without the distraction of someone else's personal belongings. Remember, your priority should be to get your home sold for the best possible price in the least amount of time. We know you are emotionally attached to all your things, but you can live without your personal items displayed on the walls and furniture while your house is on the market. You can always put them back up in your new house!
After years of living in your home, it is certain to have collected a fair amount of clutter, and it really does affect the way buyers see the home! You should remove all clutter from shelves, countertops, drawers, closets, garages, attics, and basements; in short, everywhere. Pack everything you don't absolutely need right now into boxes, label them for moving, and neatly stack them in a corner of either the garage, basement, or attic (rooms dedicated for storage). If you don't have room for the boxes, or if you also have excess furniture that should be removed, then it's worth it to rent a storage unit (cost approximately $45/month) until you're ready to move it all to your new place.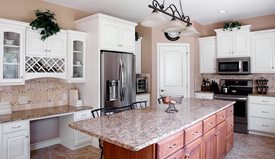 Rearrange and Neutralize
Rearrange the rooms to make each have a distinct, useful purpose. Create relaxation and conversation spaces in your rooms, which may require moving some furniture into completely different arrangements than you have currently. Your agent should be able to help you with this. If your home has been painted recently, consider yourself ahead of the game. If not, repaint the rooms that need it most. Sellers who paint the interior of their home will see a large return on the investment. Fresh, neutral paint on the walls, trim, and doors makes everything appear clean and new. For a few hundred dollars of paint and supplies, and an investment of your time, you can transform the look of your home! Check Sherwin-Williams for a collection of HGTV colors that are appealing to today's home buyers. Choosing some of the neutrals from this collection will save you lots of time trying to decide which colors are best.
Scrub and Deodorize
Cleaning and deodorizing your home is the most obvious way to increase its appeal to buyers (and think how much easier it will be with all your personal items packed away). Make sure your house shines from top to bottom. When buyers see an unkempt home or smell something when they first walk in, they become turned off immediately. If you don't have the time to thoroughly clean, or cleaning is just not your thing, then it is worth the investment to have the house professionally cleaned so that everything is spotless — windows, sliding glass door tracks, garage, basement, ceiling fans, etc. The cost for a cleaning service is approximately $25-50 per hour, depending on the location and size of your house, and how much deep cleaning needs done.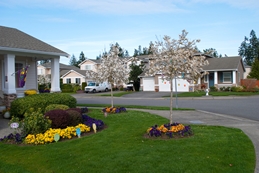 Enhance Curb Appeal
Having a neat and tidy exterior is just as important as cleaning the inside of your home. Many buyers will ride by and check out the exterior of your home before scheduling a showing. Remember, you only have one chance to make a good first impression! You want your home to stand out, so try painting your front door a bold, welcoming color and placing some flowers in a pot at the door. Don't skip basic maintenance: mow the lawn, make sure the sidewalk and driveway are free of clutter and debris, and ensure the house number is easily visible. If the exterior of your home doesn't sparkle, then you should have it pressure washed (you can rent a pressure washer for around $50 per day), and that includes and driveway and sidewalk if they need it. Mulch is cheap and covers a multitude of sins; you'll be amazed by the degree of neatness it adds to your landscaping for just $3 or $4 per bag.
These are some of the key items when it comes to making your home appear at its best! Your agent can give you a list of items to fix or replace in your home and help you decide what needs to be done in order to sell your home for the best possible price within your time frame.