Dutchess County Real Estate Market Update April 2016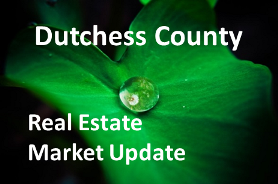 Residential real estate sales activity in Dutchess County has continued to increase, and we're headed for the best sales year in many years.
Let's look at Single Family Detached homes separately from Single Family Attached homes to get a more detailed overview of how the different segments are performing. We will be comparing the first four months of 2016 compared to the same period last year.
Dutchess County Single Family Detached Homes
Sales of single family detached homes in Dutchess County increased by a whopping 26.4%. There were 604 closed sales by the end of April of this year compared to 478 last year.
It took a little less time, on average, for homes to sell this year, down to 144 days from 149 days last year. The median selling price was about the same -- $233,100 in 2016 and $235,000 in 2015 -- representing a 0.8% decrease. There were 1,525 available homes for sale on April 1, 2016, compared to 1,655 on April 1, 2015 -- down 7.9%. Pending contracts are up 26% from this time last year, which is a good indication that we will continue to see brisk sales activity heading into the Summer months.
Dutchess County Single Family Attached Homes
Sales of single family attached homes (condos and townhomes) also increased -- by 17.9% -- from 106 sales in 2015 to 125 sales in 2016. The media sales price remained relatively unchanged at $145,999 in 2016 compared to $146,376 in 2015, a 0.3% decrease. The average days on the market was the same at 123 days. The number of available listings is down considerably, from 314 on April 1, 2015, to 240 on April 1, 2016.
Please don't hesitate to contact us any time with your questions about the local real estate market in the Mid-Hudson Valley Region. We have local offices in Wappingers Falls, New Paltz, LaGrange, and Newburgh staffed with professional REALTORS® ready to assist buyers and sellers with all their real estate needs.
Source: The statistics reflect the sales activity of the Mid-Hudson Multiple Listing Service Inc., which comprises the largest sales volume sampling.