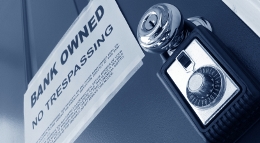 RealtyTrac® released its U.S. Foreclosure Market Report™ for October 2015, which shows foreclosure filings (including default notices, scheduled auctions, and bank repossessions) increased nationally by 6% from September, but is still down 6% from a year ago.
There was a total increase of 31% from a year ago in properties repossessed by lenders (REO's) in October, but despite the annual increase, REOs in October are at about one-third of their peak in September 2010. REO's increased from a year ago in 36 states in October, including New York ↑ 320%, New Jersey ↑ 275%, Texas ↑ 119%, North Carolina ↑ 89%, Nevada ↑ 83%, and Illinois ↑ 62%.
Scheduled foreclosure auctions also increased annually in 17 states, including New York ↑ 47 %, Massachusetts ↑ 45%, North Carolina ↑ 24%, New Jersey ↑ 17%, and Maryland ↑ 3%. More than 46,000 properties across the U. S. were scheduled for foreclosure auction during the month of October, up 12% from the previous month but down 22% from a year ago.
Over the past 5 years there has been a 'seasonal' increase in foreclosed properties in October, so it is not surprising to see an increase again this October. Of course, there any many economic factors that contribute to the foreclosure rate in any given location, as well as the differences in the foreclosure process among states and lenders.
These figures do not mean that there are that many more foreclosed properties actively listed for sale. The availability of the distressed properties is affected by the foreclosure process itself which can take years, and also by the timing of when lenders decide to release pent-up inventories.
To find foreclosed properties in the Hudson Valley that are currently available for sale use our Foreclosure Search.
Contact us with any questions about how to purchase a foreclosed property, and for assistance locating foreclosure purchasing opportunities.