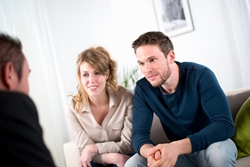 To equip your agent with everything they need to effectively market and sell your home, you should be prepared to provide them with as much information as possible up front. Anything you can do to make your agent's job easier is going to benefit you during the process of selling.
So what should you get in order for your first meeting with your real estate agent?
1. Get a general idea of what you home may be worth by looking at recent comparable sales in your neighborhood/area as well as current listed properties that are most like yours. Sometimes market conditions will be in your favor, and sometimes you may be disappointed. But, regardless of the market, doing a little research on your own will help you and your agent create a realistic plan for selling your home. See how a professional real estate agent prices your property.
2. Check your mortgage balance so you know what you still owe. This is important, especially if you owe more than the market value of your home. In that case, selling as a short-sale may be the strategy, which is totally different than an equity sale. Even if your home is in the black, it is still important to know. Depending on your goals, and what your agent thinks you can get in the current market, that information might make the difference between listing and waiting it out.
3. Tell your agent any issues or potential issues that could hold up a sale . . . tax issues, liens, disputes with neighbors about property boundaries, etc. Your agent will likely want to help you solve these issues up front so they don't become a problem at closing time. Also, if you are selling a property that belonged to a deceased relative, make sure the house has a clean title before meeting with your agent.
4. Prepare your home like your most important guests are coming. Clean up the landscaping and exterior of the home and scrub the interior. Your home should look as good as it can look. This will definitely have an impression on your agent. Agents know that good curb appeal and clean homes sell faster and for more money. If you've done a good job with the cleaning, inside and out, your agent just may feel your house is worth a premium.
5. Hold off on doing any improvements until you've met with your agent. What you think is going to net you a return on investment may not be what's trending in the market. Your agent will know what the buyers in your area are looking for, and more importantly, what they will pay a premium for. Your agent can help you decide what improvements and/or staging, if any, should be made prior to selling.
6. Make a list of all the improvements you have made to the property. New major elements, like newer roof, siding, furnace, electrical, appliances, or kitchen and bath remodels are all features the agent can use to effectively market your home.
The bottom line is to be as open, sharing and cooperative as possible with your agent, and to provide them with all the information you can about your property. You are hiring the agent to represent you, and the more accurate the information they have, the better job they will be able to do for you.