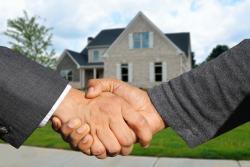 You've just found the home of your dreams, but unfortunately there are some other buyers who feel the same way! In a seller's market, competition among buyers for the relatively small number of available homes means that bidding wars can become the norm rather than the exception. When you find yourself locked in this financial battle, what should you do? Keep reading to get a game plan together and win this war!
1. Know your limit
The first step when making an offer is to know your maximum price. Remember to include factors such as monthly mortgage payment, property taxes, homeowners insurance, any homeowner association fees, and a general estimate of monthly upkeep and repair costs. You shouldn't look for homes that are right at your maximum; instead, find a listing which gives you a little bit of space to work with during negotiations. Importantly, DO NOT go over your maximum. You have to be willing to walk away if the bids surpass your financial limitations. Over-extending your budget can have disastrous consequences on your current and future finances.
2. Cash is king
If you are able to do so, make an all-cash offer up front. Sellers often put a premium on the speed and assurance of a cash sale, especially if they are an investor. In fact, sellers will sometimes accept lower offers if they are made with cash.
3. Waive contingencies
Of course, most home buyers don't have the luxury of making a cash offer. In that case, you could try to sweeten your bid by removing the contingency of having your mortgage approved. You should only consider this strategy if you already have a fully pre-approved loan from a lender, as you will otherwise be responsible for paying the seller out of pocket for any difference in sale price and loan amount.
4. Get personal with a letter
This last option is applicable when making an offer to sellers that clearly have emotional attachment to the home. For them, the deal isn't just about making money; they also want to know that their beloved home will be left in good hands. Even if you've never written a letter in your life, mentioning children or neighborhood pride could be the personal touch that pushes your offer across the finish line in front of the guy who wants to bulldoze the home.
Although there's no way to guarantee that you will walk away from the table with a signed contract, these tips can help give you the best possible shot at landing your dream home!