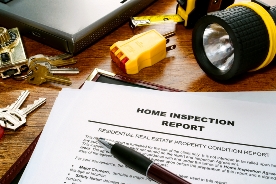 Almost all buyers today make their purchase offer contingent on a satisfactory home inspection. Having the inspection completed by a professional is recommended by most REALTORS® as a way to lessen the chances of unpleasant, budget-breaking surprises for the home buyer.
As the seller, what should you expect from the home inspection, and how can you prepare your home ahead of time to get the best result? In general, it's best to thoroughly review the major systems in your home: heating, cooling, plumbing, electrical, roofing, siding, and external water penetration.
Heating - Check your furnace filter(s) and change them if necessary. If you haven't had your furnace cleaned, serviced, and inspected prior to the heating season, do it now. A qualified HVAC professional will check to be sure that all the elements of your heating system are working and are safe. It's also a good idea to install a carbon monoxide detector near the furnace area or on the first floor.
Cooling - When it's cold outside, the inspector will not be able to fully inspect the cooling system, but you should check the condition of your condenser and remove any debris along the sides, clean it off, and cover it for the winter. If the weather permits, then also have your cooling system checked by an HVAC professional.
Plumbing - Obviously, any leaky faucets or pipes should be repaired before the inspection; in addition, repair any damage to walls, ceilings, or cabinets that the leaks may have caused. Check all the fixtures in the kitchen, baths, and laundry to ensure they all work properly. If you have any really old, inexpensive fixtures you should consider replacing them with new ones. Finally, be sure to clean all under-sink areas and keep them uncluttered so the inspector can easily get to the pipes.
Electrical - If you have old electric service (60-amp), it will almost certainly have to be upgraded. This is a substantial cost, and one that a buyer is not often willing to shoulder. It also is a 'livability' issue, since 60-amp service is not adequate for most people. You should discuss this with your agent so you can decide whether it should be done ahead of time to make your home more appealing. Ensure that all outlets installed within 6 feet of a water source are GFCIs and that there are no unsecured wires hanging in your basement or elsewhere. In general, check for any visible safety issues, as these will be red flags during the inspection.
Roofing - Do a visual inspection of your roof to ensure there are no missing shingles. If it appears in good order, but has discoloration or moss growing on it, you should have it cleaned by a professional. Check around the chimney and roof vents to be sure the mortar and caulking are intact and there are no areas where water penetration can occur. Clean out the gutters and downspouts and ensure they are operating properly.
Siding/Exterior - Re-caulk as necessary around windows and doors and paint or replace any areas where your siding is damaged or worn.
Water Penetration - Check the grading around the house and be sure no mulch is in contact with the siding. All grading should be sloped away from the foundation, and downspouts, the sump pump, and any drains should be running away from the structure.
You'll want to go through each room of your house like a buyer and/or inspector would. Check windows and doors to ensure they are operating properly. If any appliances are not running properly, then repair or replacement is recommended. If you have an operating wood-burning fireplace, then you should have it cleaned and inspected and provide a copy of the report/invoice to the buyer.
The final tip? Clean and unclutter everything and everywhere! It's amazing how everyone, including an inspector, is affected by a clean, neat, and organized home.